Atomic Layer Deposition Equipment    ALD Series
Optimum to form a film on the complex-shape substrate.
Low temperature film formation supports even resin substrates.
Provides a thin film with excellent gas barrier characteristics.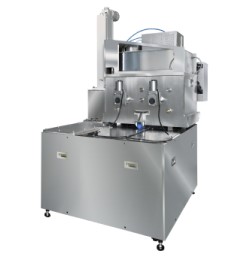 ALD (Atomic Layer Deposition) forms a thin film by repeating cycles of the Atomic Layer Deposition method that forms a single atomic layer in one cycle.
Enabling uniform layer control at an atomic layer level can form a thin film with high quality as well as high step-coverage.
Application film type : SiO2, TiO2, Al2O3
Main Specifications
25 pieces of φ4 inch substrates /1 batch
Rotary mechanism of substrate
Temperature of substrate heating: 25 to 120 °C
Features
Excellent film thickness controllability based on single atomic layer-by-layer formation.
Able to form a film with excellent uniform coverage even for a high aspect-ratio substrate.
Able to form a film with substrate temperature rise suppressed.
Excellent film distribution within the substrate surface.
Applications
LED (Chroma adjustment, Ag sulfide preventing film)
Electronic devices (insulation film, barrier metal)
Gas barrier film and vapor barrier film
Film formation on complex-shaped substrates