By measuring heat generated from microorganisms, this system can measure growth curve/growth speed of microorganisms in a non-destructive manner.
It is possible to observe how microorganisms will grow only by putting them into a vial container or petri dish.
The existing method to monitor the process of food rotting and fermentation in an agar cultural procedure takes much preparation time and huge amount of petri dishes because it is necessary to prepare samples in a destructive manner.
Our Microbial Activity Measurement Systems, Antares and Spica, can evaluate activities and growth speed of microorganisms by measuring heat generated from them.
With these systems, it is possible to prepare samples in a non-destructive manner, which cuts down sample preparation time drastically.
These systems can provide not only growth curve, growth speed, but also data on change of activities and inhibition concentration under various conditions.
Applications
Measurement of food rotting process and effect of additive for food preservation
Research for food ferment and brewing
Research for preservation of pharmaceutical, cosmetics and detergent
Development of antibacterial agent
Analysis of bran and carrier cultivation(fungus cultivation)
Activity measurement of microbes in the soil
Features
measurement of various shapes of samples in a non-destructive manner
Various kinds of samples are available like liquid medium, agar medium, microbe carrier(bran, urethane) and soil.
Simultaneous measurements of multiple samples
24-vial measurement at one time and real-time monitoring are available, accelerating research and development dramatically.
Enhanced analysis functions
Data can be saved in Excel file and be processed for any purpose. With a specific data analysis software, growth speed, action curve of pharmaceutical and 100% inhibition concentration are analyzable.
System constitution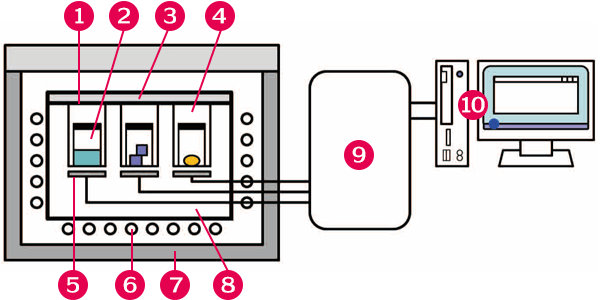 ❶

 Sample unit

❷

 Analyte incubation

❸

 Standard cell (at 1 place)

❹

 Cylindrical coppers (at 19 places)

❺

 Thermocouple plate

❻

 Copper tube for cooling water

❼

 Thermal insulating material

❽

 Aluminum heat sink

❾

 Signal analysis circuit

❿

 Data compiling and PC for analysis
Specifications
ype
Spica series

Antares series

Leonis series

Number of measurement samples
24 samples
19 samples
8 samples
Measuring method
Detect sample heat generation with sensor
Sample holder
Ampule/vial container

※Please use ampule/vial container with outside dimension, φ40 X 86(mm) or less
Schale type

φ60mm
Sample Container Size
φ19 X 86mm
φ40 X 78mm
φ60 X 32mm
Installation requirement
Avoid locations near heat sources Temperature-controlled room if at all possible
Measurement temperature environment
Capable of measurements in a range of 5°C to 55°C
(depending on the temperature adjustment range of the temperature-controlled room)
Power source
100V 15A(MAX)
Composition

Main body measurement unit
Data acquisition unit
PC
Circulation constant temperature
water tank

Main body measurement unit(Internal constant temperature
control system)
Data acquisition unit
PC
Temperature control power
supply unit

Data loading
Load at 60 seconds intervals, possible to continuously record for up to 166 days
Relation between system signal and the number of molds
Measurement date of colon bacillus growth